I've written articles on a pretty wide range of topics; that potential diversity was one of the reasons I was attracted to feature and magazine journalism in the first place.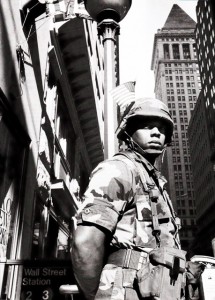 This piece (shown in two parts) on New York in the days after 9/11, largely seen through the eyes of one if its chief chroniclers, Jay McInerney, is a good example of the kind of feature I like to write: in-depth (it's 6,000 words or more), detailed and different (McInerney and I worked in a soup kitchen in Bowling Green Park). It was also something of a scoop – no other journalist, to my knowledge, had got such extensive access to Ground Zero so soon after the attack.
There's also been some coverage of various wars – from the safe distance, I hasten to add, of home, or decidedly after the cessation of fighting. A trip to Bosnia resulted in two articles: one on the impact of the siege of Sarajevo; the other on a theatre company in Mostar that kept performing during the war.
I profiled Lance Corporal Ian Malone, one of the first soldiers from a British Army regiment (and the first Irishman) to be killed in Iraq – a piece on a brave and gifted man that appeared, in different forms, in both the Daily Telegraph and Irish Times.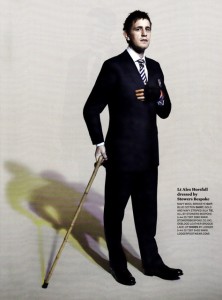 I also profiled the remarkable experiences of five British soldiers who fought in Afghanistan, three of whom were horrifically injured by IEDs, and two who were cited for extraordinary acts of bravery. (The aftermath of a very different, though deadly, bomb attack – the nail bomb that caused carnage in a gay pub in London's Soho in 1999 – was covered in this piece.)
By contrast, I've also looked at the implausibly idealistic yet inspiring work of campaigner and documentary film-maker Jeremy Gilley and his organisation Peace One Day, which has tirelessly fought to first establish and then put into effect an annual day of "global ceasefire and non-violence" (21 September).
I think I've been drawn, in several of my features, to people whose lives have been changed, immeasurably, often in an instant.
A good example of this is Carolina Chibure, a woman who remarkably gave birth to a baby
girl in a tree during the devastating floods in Mozambique in 2000. I first caught up with her in Washington DC, when she had become, almost overnight, not only her country's most valuable asset and export but also, as the Telegraph put it, "catapulted from a life a extreme poverty into a world of media celebrity and ambassadorial limos". Seven years later I travelled to her village in southern Mozambique to see how she and her daughter Rosita were faring.
I looked at young lives tragically transformed by a rather more man-made disaster, Chernobyl, again in a companion pair of pieces: a feature for the Irish Times on two 11-year-old girls from Belarus who came to stay with my partner Jacqueline and me in Ireland; and a follow-up piece for the Telegraph Magazine, when we visited Tanya and Katya and their families in their home village three years later.
The feature Torn Apart analysed the emotive issue of father's rights, profiling a man who fought long, hard, though ultimately unsuccessfully – against the law and, he would argue, in-built prejudice – to prevent his ex-wife taking his son to live on the other side of the world.
Three people powerfully affected by the dramatic and disastrous economic crash in Ireland also featured recently in End of the Road. The article serves as an interesting counterpoint to a rather more buoyant article I wrote a few years earlier in 2007 at the height of the Irish boom, about the runaway Celtic Tiger CRISPIEs – the Cash-Rich Irish Seeking Property in Europe (or anywhere else in the world for that matter, at that time).
There have also been some features that focussed on men's health issues, such as heart attacks, testicular cancer and HIV drug therapy.
There is a story on the life and times of Britain's most notorious conman, Paul Bint, aka King Con; a crime story of a rather different kind took me to Macedonia to investigate the baffling and bewildering case of Vlado Taneski, a journalist charged with committing a series of gruesome murders on which he himself had reported. I explored the same "Murder, He Wrote" phenomenon in Prime Suspect, which examined the brutal 1996 killing in Ireland of French TV producer Sophie Toscan du Plantier, a case that remains unsolved. 
The rest of the pieces I've chosen to include on this page are similarly contrasting. There is my first-hand experiences at the World Poker Championship; Miss World; Concorde; the curious world of koi and koi collectors; the significance of the British riots of 1981 and 2001; the epic story of the world's most important and powerful resource – oil; and super-studs and thoroughbred horse-breeding.
Finally, there's the powerful attraction of the demanding and ancient art of deer stalking, a feature, again shown in two parts, I worked on with the great war (and landscape) photographer Don McCullin. (Other fine photographers I've had the pleasure of working with include Seamus Murphy, Pieter Hugo, Ziyah Gafić, Simon Roberts, Jackie Nickerson, Nadav Kander, Ben Ingham and Jake Chessum.)
As I said, a pretty diverse collection of features.