Writing about music has given me some of my greatest pleasure in journalism.
One series of interviews I particularly enjoyed researching and conducting was "Invisible Jukebox" for The Wire. The idea is similar to the long-standing "Blindfold Test" in DownBeat: you play a musician a set of tracks which they are asked to identify and comment on – with no prior knowledge of what they're about to hear.
It proved to be a great way of getting something new and different, something highly personal, from an interviewee; musicians would often respond very powerfully, emotionally and insightfully to the (carefully chosen) tracks. Often more so than in many a "straight" interview.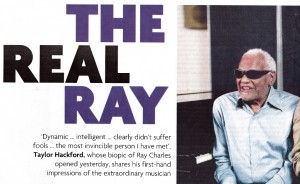 There were quite a number of people that I interviewed using this format, and I've included some of the better ones here: Paul Weller, Elvis Costello, Ali Farka Toure, Jack Bruce, Kate and Anna McGarrigle, Leon Redbone, John Harle, Lester Bowie, Bob Stewart and Billy Jenkins. Some of these interviews made their way into book form, in an Invisible Jukebox anthology.
I spoke to director Taylor Hackford about his first-hand experiences with Ray Charles during the making of the film Ray, Jools Holland for an early cover profile for GQ, Nick Cave for a profile of the Liss Ard festival in Ireland, as well as to R&B/soul singer-songwriters D'Angelo and Gil Scott-Heron.
There have been many individual album and live reviews – and quite a lot of jazz, from interviews with and profiles of Miles Davis (on publication of his autobiography, and as a tribute ten years after his death), Bill Frisell, Wynton Marsalis, Jan Garbarek, McCoy Tyner, Joe Henderson, Red Rodney, Sun Ra and John Coltrane.
I also contributed quite a lot of jazz to GQ during my time there, from pieces on the vitality of the Harlem Renaissance of the 1920s and the buzz of jazz in Britain in the 1990s, to working with the great music/fashion photographer William Claxton (a ghost-written homage to Chet Baker is included here).