I've got to interview a good number of leading people in their field; many of those encounters are also to be found on the Arts and Music pages in the main menu of the site.
There was a period when I wrote quite extensively about Formula One. Reports were filed, mostly for Esquire and GQ, on topics that ranged from pit-lane politics to Bertie Ecclestone and the big business of F1 to the explosive and often race-winning precision of the modern Formula One pit stop (Esquire dubbed it "the most exciting eight seconds in sport"). But mostly there were profiles.
One of the more interesting interviews was with "Fast" Eddie Irvine, then at the top of his game and number one driver for Ferrari. I got rare access, through the Williams team, to the pre-season testing, preparation and debut grand prix in Australia of then 20-year-old rookie Jenson Button; seven years later I would catch up with him again. There were also encounters with Juan-Pablo Montoya and Heinz-Harald Frentzen, and a tribute to the great Ayrton Senna, on the tenth anniversary of his death.
I spent time, equally as memorably, with Murray "excuse me while I interrupt myself" Walker, and later with the man who would succeed him as the "voice of F1", Martin Brundle. I also interviewed two other men inextricably linked to power and speed: Carroll Shelby, the renegade Texan champion racer who developed the legendary Cobra sports car; and Richard Jenkins, a young English engineer and inventor attempting to beat world speed records, over land, sea and ice – using wind power alone.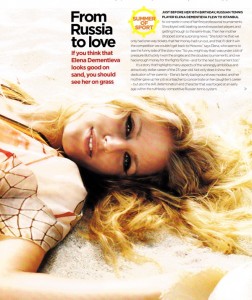 Other sports people I've got to speak to include champion jockeys Frankie Dettori and Richard Dunwoody, six-time world snooker champion Steve Davis, champion pool player/hustler Steve Knight, and sports promoter and Leyton Orient owner Barry Hearn. To be fair though, I met the five men above in one sitting, around a poker table, for a regular Esquire Sports Quarterly feature called "The Bet".
I've profiled quite a few successful businessmen, from rebellious Ryanair boss Michael O'Leary to revolutionary designer and inventor James Dyson, veteran adventurer and travel company owner Geoffrey Kent, and teenage dot.com millionaire Benjamin Cohen.
There haven't just been encounters with remarkable men though. Granted, there were, at one time, meetings with more than a fair share of models (including Jordan, Caprice and Claudia Schiffer), but there was also Russian tennis ace Elena Dementieva, actress, entrepreneur (and OK, model) Elle Macpherson, and human rights campaigner Caoimhe Butterly.